COLLISION 2019, TORONTO
We've completed this project, but we'd be happy to keep you informed about future missions to this destination.
From 20th until 23rd of May the fastest growing tech conference in North America will take place in Toronto;  Collision. This 5th edition will be hosted for the first time in Toronto.
In collaboration with the Dutch Entrrprise agency, Handelsroute.nl is organizing an entrepreneur's trip to Collision with a very extensive program with many extras.
As part of this Dutch delegation you can make use of the Holland Lounge (stand number E194), your company logo will be placed on the Holland Lounge and you will of course also have access to all tracks of Collision. In addition, the program consists of individual matchmaking, network events, company visits, speed dates, market research and you can connect to matchmaking programs from our partners. A richly filled program with numerous networking options and tools for entering the North American market!
The cost for this program is only 495 euros per participant (ex 21% VAT) 
What is Collision?
Collision takes place this year for the 5th time, now for the first time in Toronto. In recent years, the tech conference has taken place in New Orleans.
This tech conference brings together more than 25,000 participants from 120+ countries.
The first 100 speakers are known.
The organizers of the Web Summit in Lisbon are behind the Collision team.
The tech conference is frequently visited by CEOs, Start Ups, global corporations, investors and the media is frequently present.
Toronto: The place to be in tech!
The Toronto region has the largest tech scene in Canada and is third on the list of North America. With more than 18,000 tech companies, Toronto puts itself on the map as a tech hub. Toronto is expected to have more technology jobs within 2 years than Silicon Valley.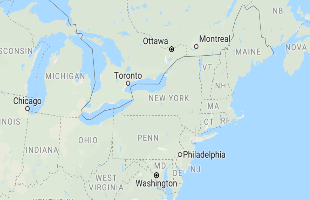 TORONTO
19 t/m 23 May. 2019
Enercare Centre
100 Princes' Blvd. Suite 1Toronto, ON M6K 3C3
https://collisionconf.com/